Description

It doesn't matter how good of a driver you are, it's completely normal and common that you dent your car every now and then because, well, it happens! But are you willing to take your vehicle for repair into the panel beater shop every time? It's totally a waste of money and time, which is why we brought you the smartest, most efficient way to repair the car yourself…
Introducing the Car Dent Repair kit that has everything you could ever need for a repaired, good-looking vehicle! Regardless of the dent you are dealing with, you will easily fix it without causing any more damage, and you will do it in a matter of minutes. This Car Dent Repair kit includes 20 different rubber stickers for different sized dents. And the best part; it can be easily and safely used by anyone!
Get your car looking great again without wasting a single dime with our Car Dent Repair Kit!
✅ The car dent repair kit is highly efficient to repair any dent in your car.
✅ All in one repair kit as it includes every tool you need for an effortless and quick repair.
✅ 20 different rubber stickers to repair different sized dents easily by hand.
✅ High-quality repair tools that is durable and convenient to take anywhere.
✅ Suitable & efficient on all dents and car types to help you get the job done easily.
✅ Can be used by any person without any risk!
✅ How to use :
1. Pick the appropriate size rubber sticker for the dent.
2. Apply hot glue on the sticker then stick it to the dented part (do it fast!).
3. Attach the puller to the sticker and easily pull till the dent is gone.
4. Add alcohol to the repaired area to remove the glue.
✅ Specifications :
Size: 390x120x50mm
Color: blue & rose red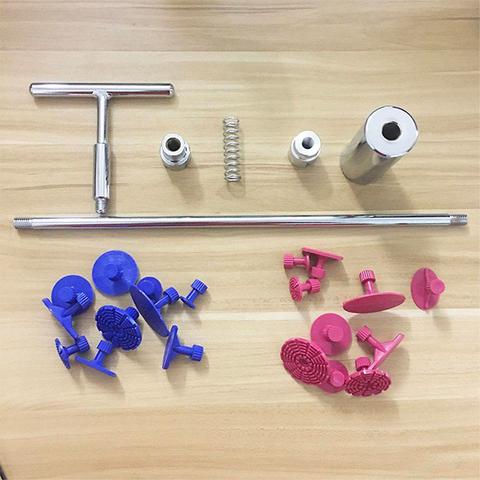 ✅ Package List :
1* Puller Bridge
20* rubber stickers